BIOGRAPHY
Eric Slater was an artist who produced more than 30 colour woodcuts between 1926 and the outbreak of the Second World War. Many depict scenes near his home in Seaford, East Sussex, where he lived for most of his adult life.
A frail, only child, Eric Slater was born in 1896 and spent his early years with his parents, grandmother and two servants in a large house in Hampstead, London. His father, Thomas, a successful silversmith and partner in the firm Aldwinkle and Slater, died when Eric was eight.
Eric moved with his mother and grandmother to Sussex where he studied at The Hastings School of Art. He was probably taught how to make woodcuts by a neighbour called Arthur Rigden Read (1879-1955) who had been to Japan to study oriental woodcut techniques used by European printmakers from the 1890s.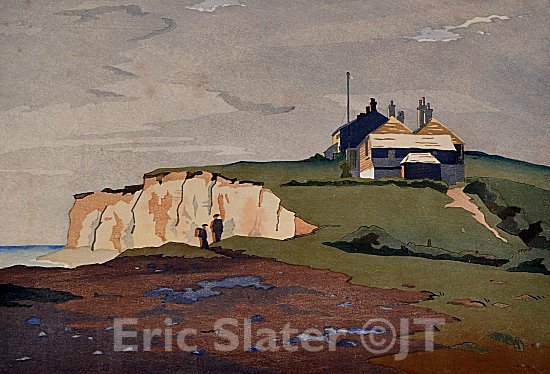 Coastguard Station, Eric Slater